Child eye examination package by an ophthalmologist specializing in pediatric eye diseases.
From BNH Hospital
"For bright eyes that open up wide for a child's learning without boundaries."
Having good eyesight is very important for a child's learning development and future prospects.
Parents should pay close attention to their child's eye health, because leaving unattended vision problems can affect their eyesight in the long run, which may be too late for appropriate care and protection. It is therefore, important that you not ignore a child's eye examination by a pediatric ophthalmologist.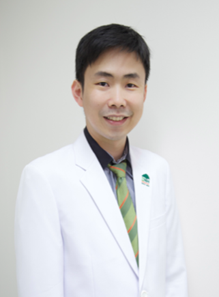 Dr. Jarin Saktanasate
Department: 
Eye Department
Speciality:  
Ophthalmology, subspecialty in Pediatric Ophthalmology and Strabismus
Education:
– MD, Chulalongkorn University ( 2001)
– Thai Board of Ophthalmology, Rajavithi Hospital, Mahidol University (2012)
– Sub-Board of Pediatric Ophthalmology &Strabismus, Siriraj Hospital (2013)
– Research Fellow in Ocular Oncology, Wills Eye Hospital, Philadelphia,Pennsylvania (2014)
Who should be examined?
Children aged 4 – 6 years.
What examinations are included in the pediatric eye examination package?
Visual inspection
Eye examination
3D visual inspection
Colour vision test
Eye muscle, eye strain, strabismus, and eye movement examination.
Examination of the eye structure and abnormalities in the eye with a Slit Lamp microscope + VA.

Slit Lamp microscope + VA
Why do you need your child's eyes examined?
?
Eye health and good vision are important for learning. It also helps in planning your child's future education and career. Caring for your child's eyes, especially between the ages of
4-6
years, is a matter that needs close attention, because myopia can occur in children, but they don't realise that they are short-sighted. So they don't tell anyone that they can't see clearly, they can't see the board in the classroom clearly, or other eye problems. Moreover, myopia in this age range is rapidly increasing. On average, short-sightedness in children increases by 50 to 100 percent 50-100 every year if they do not receive close attention.
How is this different from a normal eye examination
?
Because a test of simply reading numbers or letters is not enough. Therefore, a comprehensive examination is required. If children with myopia not taken care of, it may cause severe vision loss with no possible cure in the future.
Symptoms that should be noticed?
Examples of simple observation include a child's might blank stare, strabismus, inability to move the eyes to their extremities, drooping eyelids, watery eyes, more than usual eye mucus, bright eyes, white spots, family history of eye disease, such as cataracts at birth, macular degeneration, eye cancer, a child receiving certain medications that may affect the eyes (such as steroids), head tilting, squinting, having to walk to get a closer look, etc. (จำพวก สเตอร์รอยด์) มีอาการชอบเอียงตา หรี่ตา เวลาดูอะไรต้องเดินไปดูใกล้ๆ เป็นต้น
Checked by whom and where?
Children's eye examinations should be performed by an ophthalmologist specializing in pediatric eye diseases. At our Eye Department, BNH Hospital provides pediatric eye health care services by an ophthalmologist specializing in pediatric eye diseases, such as Dr. Jarin Saktanasate
See doctor's examination schedule / Make an appointment
| Date of examination | Time |
| --- | --- |
| Monday | 13:00 – 20:00 |
| Wednesday | 07:00 – 17:00 |
| Thursday | 08:00 – 12:30 |
| Friday | 13:00 – 20:00 |
| Saturday | 09:00 – 17:00 |
| Sunday | 08:00 – 12:00 (every 1st,3rd,5th week) |
When and how often should you have your child's eyes checked?
Children between the ages of
4-6
ปี ควรได้รับการตรวจอย่างน้อย
1
should have their eyes examined at least once a year, and then every year until the age of
13
After the age of 13
, you can switch to an adult eye examination.
What are the recommendations for eye care and myopia in children?
Today, pediatric myopia can be prevented or slowed down with eye drops. We recommend seeing a doctor for a preliminary assessment before receiving treatment. Wearing blue light filtering glasses does not help prevent short-sightedness. Blue light can result in eye strain, dryness, or even macular degeneration. If the child continues to have trouble in focusing, this could be a sign that their eyesight is still deteriorating.